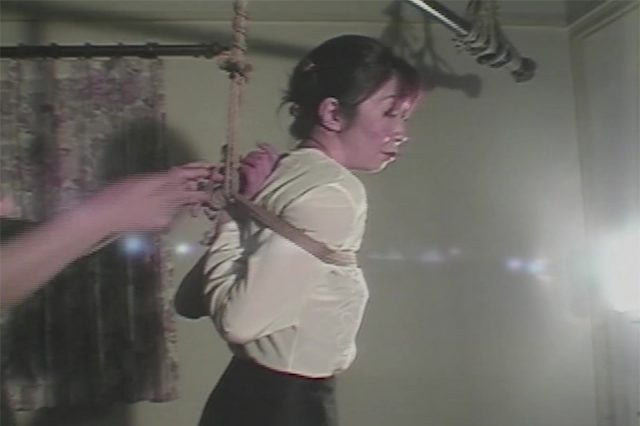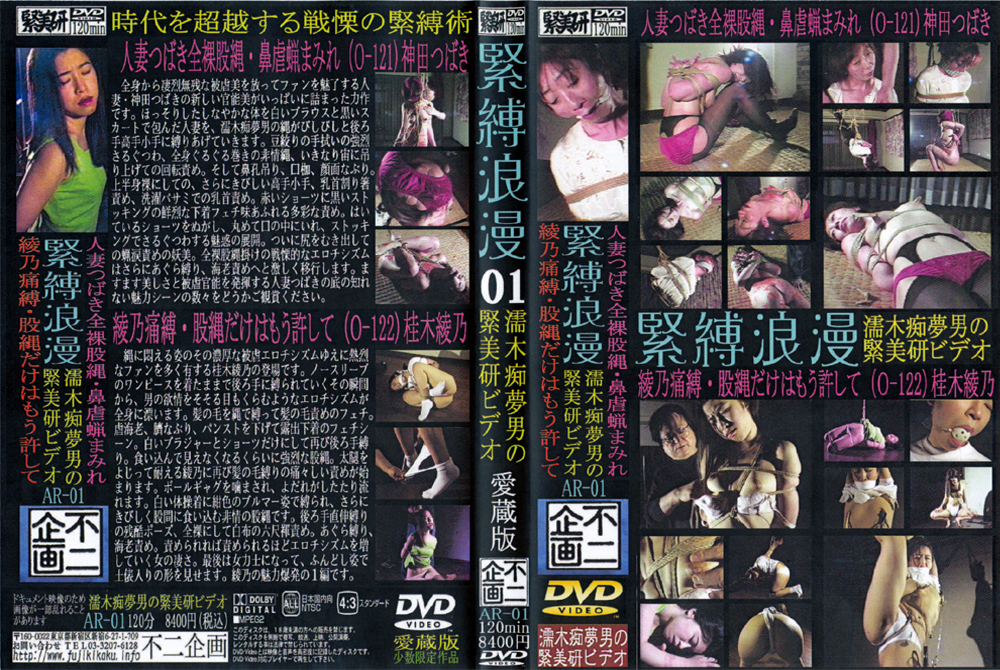 nureki chimuo was one of the top kinbakushi during the Showa period and remained one of the most sought after rope artists in Japan until his death in 2013.  His style was classic semenawa (torment rope) and his tying has been recorded in an extensive collection of videos from Fuji Planning, a Japanese production company that produced videos that often featured Nureki tying.
This video AR-01, is a compilation of two videos (O-121 and O-122) which were themselves edited videos from Nureki's famed Kinbiken sessions.
The models for these videos were Tsubaki Kanda and Ayano Katsuragi, two frequent models for Nureki's kinbiken.
Kinbiken was a very special meeting for rope enthusiasts, because Nureki would only tie true rope lovers and masochists for these sessions.  You can seen as the ties evolve the true connection between Nureki and the bottoms, as they grow more and more absorbed in the rope, tying and feelings of the kinbaku.
The video is two hours in length and composed of a several series of ties.
It begins with Nureki tying Tsubaki Kanda in a very tight and intense high hands tie, followed by a leg tie which allows him to bring her into a full, face down suspension.  She is lowered to the ground, still tightly bound and subjected to face torment with both nose and mouth hooks.
Next, Tsubaki is untied and sits kneeling in front of Nureki, where she is subjected to a second high hand gote.  Once tied, she is posed and slowly undressed, creating intense feelings of exposure and vulnerability.
Clothespins and chopsticks on her nipples and hot wax follow.  More nose torture, gags, and seme play take the scene deeper, which ends with a strict ebi tie, converted into a partial suspension with a crotch rope and a final suspension in which she is humiliated by having her panties placed over her head.
The second half of the video focuses on Ayano, first being tied in a tight and restrictive gote and then having her legs bound.  She is lifted off the floor by the waist in a classic and intense seme pose.
Stripped down to her underwear, Ayano is tied again, this time with a crotch rope and eventually gagged and forced to pose with her hair tied.
She is gagged and tied in several different poses, all designed to make her breasts especially vulnerable as she is subjected to on going nipple torture from clamps, clothespins, and weights.
Several additional and creative variations of classic ties (spread legs and ebi ties) complete the video.
Not only does this video show many of the classic kinbaku ties, it also shows many of Nureki's unique variations as well as how these ties can be used for play.
Since it is transferred from old VHS and film, the quality is not great, but nothing preserved from that time looks any better.
If you have any interest in semenawa or traditional kinbaku, it is a video worth adding to your collection.