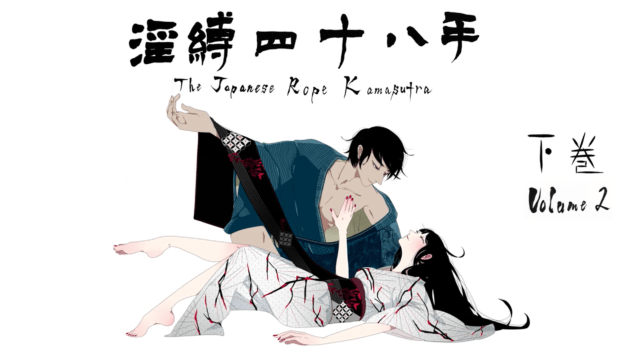 As kinbaku/shibari has become well-known & popularized worldwide, public awareness has resulted in an inevitable move towards an accessible and palatable version catering to mainstream tastes. An art born of erotic lust and forbidden sadomasochistic urges, developed in the adult BDSM cabaret shows of Tokyo & Osaka and popularized in porn magazines & video, now gets highlighted in upscale art galleries and showcased at music festivals. As a professional rope artist with diverse interests, I happen to love this, but like many people…I quite enjoy the lusty side of rope as well. You can imagine my delight at the publication of Inbaku Shijuhatte Volume 1. In other words: A Rope Kama Sutra.
Instructional manuals have a long history in Japan, for everything from swordsmanship, to fortune-telling, to Sumo, to, well, sex.  Te 手 literally translates as 'hand,' but by the Edo Period (1600-1860s) was used euphemistically to mean 'a particular knack or physical technique.' So, for example, the combative sport of Sumo had the famous 四十八手 'Shijuhatte/ 48 Essential Techniques.' But you also need a hand for carnal delights, no? Sex manuals were quite popular in Edo Japan, and a 48 Hands sex book was understood to be a comprehensive manual for positions and techniques for pleasing each other in the bedroom, in the same manner as the better-known Kama Sutra of India. Today, carnal rope enthusiasts around the globe will surely enjoy this slim & stylish volume of sexual positions with rope bondage.
This book is a collaboration between 3 skilled artists: Marc is a French rope artist and a long-time resident of Tokyo. Marc has immersed himself in kinbaku for more than a decade, and is a senior member of the Ichinawakai organization. Chagawa Byo is a Tokyo-based illustrator with a delightful and subtly whimsical style. Hayashi Yūgen is a brush calligrapher whose work is characterized by bold strokes.
Together, they have written an inspirational manual on rope and lust. You will find no instructions on knots or lock-offs here; rather, the text describes 24 specific sexual positions and techniques where rope bondage is used to facilitate sexual pleasure. The book is organized into sections based on technique: play with a vibrator, oral stimulation, manual stimulation, and penetrative sex. All use rope bondage as a fundamental part of each sexual position or technique.
Each Te is given a poetic name ('The Bell's Echo, the Bamboo Flute'), described with a passage explaining the basic mechanics and benefits, and is accompanied by sexy illustration and a brush calligraphy of the name of the Te. A key at the bottom of the page reminds the reader of the types of sex acts each Te would be suitable for. Each Te is basic enough to leave ample room for personal creativity and adaptation to a wide variety of tastes and body types.
I enjoyed the manual quite a bit, and I should stress here that it is very well-suited for inspiration, but does not contain step-by-step illustrations. Rather than a manual for how to tie, it should best be thought of as a catalog of erotic bondage techniques. The illustrations depict a cis-het couple, reflecting the author's own background. Marc points out that the Te can and should be freely adapted and enjoyed by folx of all genders and sexual orientations. I hear the Rope Kama Sutra Volume 2 is on its way; I look forward to adding it to my bedroom library.
Jonathan Ryan is an American rope artist known online as Seattle Shibari. He can be found tying people up all over the world.