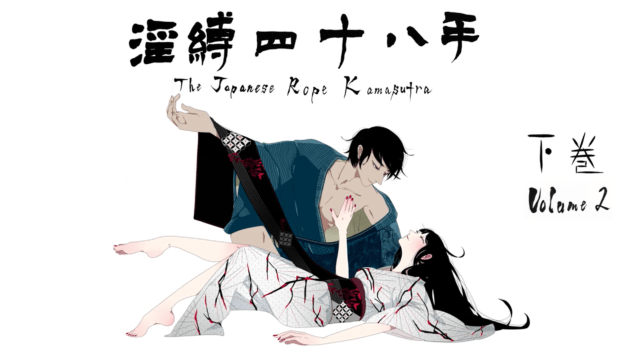 Hi everyone! How are you spending your time recently?
As for me, I am happy and enjoying every day.
Marc has developed and published the Japanese Rope Kamasutra. These 48 positions of sex have existed from long time in Japan, and he decided to create the equivalent for kinbaku.
This may generate a wide range of conflicting reactions. I know what you think.
Sex and Kinbaku are not the same thing.
Kinbaku is an art form.
Ok, so please hear me out. Yes! There are people who enjoy mixing sex with Kinbaku and SM.
I don't recommend this book if you think "Sex and SM are different; tying is yet another world!"
This book would be just like poison to you if you read it.
You want to have fun with your partner! You want to reach the finest ecstasy! Then this book is for you.
As most people knows, I am one of the Japan top 10 professional kinbaku masters. I have taught in many countries to countless students. And my style essence is about improving sex. Yes! I am one of those who enjoy tying and having sex at the same time, and as such I recommend this book.  
There is some tendency to say that we shouldn't mix Japanese rope and sex… this would end up in a very long discussion, so I'll just stop here.
By reading this book, I'd like you and your partner to be honest with your feelings, throw away any kinbaku ego you may have and just have a fun time together. There is a lot hidden in this book to achieve just that.  And when you discover this tying essence, your sexual life will change drastically.
So let me ask it again one more time.
How are you spending your time recently?
Yagami Ren
皆さん、どの様にお過ごしでしょうか?私は変わらず毎日が楽しく幸せです。
今回、マルクが淫縛四十八手を発表し、本にしました。日本には古くから48のsexを楽しむ為のテクニックが存在していましたが、緊縛でもそれをやろうと言うわけです。
しかしここで賛否両論でしょう。
ええ、あなたの言いたい事はわかります。
緊縛とsexは別なんだ!
緊縛はアートなんだ!etc…
どうぞ落ち着いて話を聞いてください。
緊縛やSM、それらをSEXと共に楽しむ人たちも一定数いるのです。
もし、SEXとSM、縛りは別だ!と言う人がこの本を読めば毒になるので、お勧めはしません。
いや、共に楽しみたい!もっと上質なEcstasyを手に入れたいと思うのであれば、この本はとても良い参考書になる事でしょう。
ご存知の方も多いと思いますが、私は日本を代表するTOP10の1人であり、世界各国に多くの支持者や生徒を持つプロフェショナル縛師です。
そして、私のスタイルはより良いSEXの為に存在しています。
そう、私もSEXと共に縛りを楽しむ類の人間であり、その代表格でもあります。
そんな私がこの本を紹介するのです、悪い本なわけがありません。
日本の緊縛と言うのは!sexをしてはいけないものだ!と言う風潮が強いですが、それは話が長くなるので今回は省略します。
私はこの本を読んで、少しでも自分とパートナーの気持ちに正直になって欲しいなと思います。
緊縛のエゴを捨てて相手と共に楽しい時間を過ごしてください。
この本にはそのヒントが沢山隠されています、その縛りのエッセンスに気がついたら、あなたの性生活は驚くほど変わるでしょう。
もう一度、冒頭の問い掛けをします。
「皆さんどの様にお過ごしでしょうか?」
鵺神 蓮