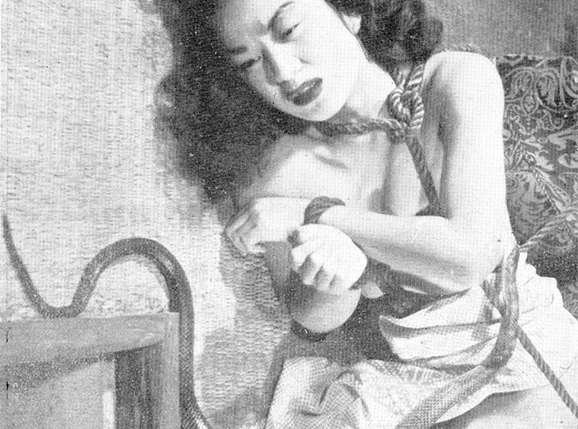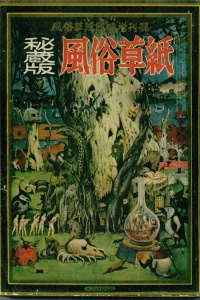 From the Decemeber 1953 (Showa 28) Special Edition of Fuzoku Soshi.  The magazine was one of the earlier magazines to feature kinbaku, but was short lived.  Running from 1953-1954, the magazine only published 11 regular issues and two special issues (Dec. 1953 and July 1954).
The magazine heavily featured the artwork of Kita Reiko, Minomura Kou's pen name for his artwork, which had been a sensation in Kitan Club earlier.
Minomura had left Kitan Club in 1953 and his work started to appear in Fuzoku Soshi.  During this time, Minomura moved from Osaka (Sakai City) to Tokyo and after Fuzoku Soshi ceased publication, he would go on to edit Uramado.
This issue, from December of 1953, features a photo layout which mirrors some of the art that was the subject of an earlier post on hebizeme (snake torture).
In this set of images, we can see a clear parallel between snakes and rope, the two almost blending seamlessly.  Where the earlier art was focused on peril, these images have a much stronger sense of sensuality.