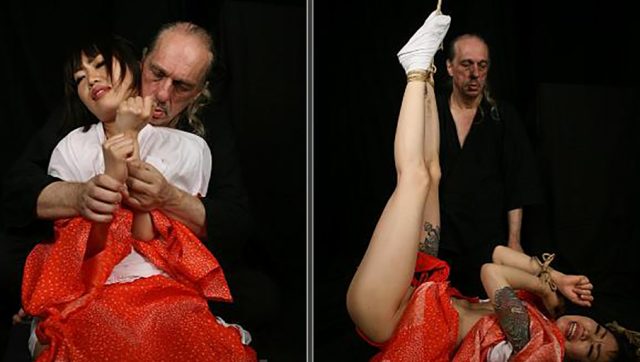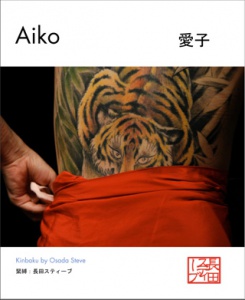 An early holiday present has arrived from Japan! Osada Steve, master of the elegant suspension performance, and so much more besides, has released his first book of Kinbaku photographs.
It's a beautiful book.
Entitled "Aiko – 愛子" (after Steve's favorite model), it's a handsome and sumptuous, large-size, paperback publication of 160 pages filled to the brim with beautiful color photos. The pictures are the product of eight different photographers and each has trained an avid and artistic eye on Osada Steve's well-known performances from his Studio SIX in Tokyo. The results are often spectacular.
The book is divided into sections devoted to different classical Kinbaku ties and techniques (Newaza, Tsuri, Bo/Bamboo Pole, etc.) as well as to other diversions (candles, multiple models, etc.) with each section preceded by a short page of pithy, informative and often amusing comments from the master himself. So solid and entertaining are these commentaries that one almost wishes these were longer and more numerous. What is true is that it's a delight to hear Osada Steve's wise and authentic voice come through these pages.
Of course, it's the photos that dazzle and it's a pleasure to be able to study Osada Steve's beautiful and idiosyncratic techniques up close. Naturally, his models are very lovely and I can think of few other recent books (Yukimura Haruki's fairly recent "Akai Hana" is a rare one that comes to mind) that so beautifully present the art of Kinbaku in photographs.
Among all these lovely models, Aiko surely stands out. In fact, this book might almost be considered a Valentine to this beautiful woman. As Osada Steve writes in one of his chapter introductions:
"A smile from aiko-chan will set your heart on fire. A touch from her will make you melt like ice."
Lucky is Steve to have such a partner. On the other hand, lucky is she to have so skilled and devoted a rope master. One who is extremely talented but also humble and caring and one who knows that, as the late Akechi Denki sensei once said, "Kinbaku is an activity for two like-minded hearts and must always be a loving exchange." And lucky are we who can share in this loving partnership through this handsome book.
Master "K"
160 pages
8 x 10 inches / 20 x 25 centimeters
9,800 Yen* (add 2,000 yen for s&h)
Aiko (as well as two outstanding DVDs) is available for order here